We welcome you to our friendly, personable coffee shop, open from Tuesday – Saturday with outside seating returning in the Spring.
Now celebrating ten years of bringing speciality coffee to Launceston! 
For our signature coffee we use one of the best blends we could find, containing enough of a fruity punch to keep things interesting whilst remaining incredibly moreish in or out of milk. Our default dairy milk is provided by Trink Dairy near St Ives, unhomogenised as standard providing a creamy richness that pairs impeccably with our coffee. George St Blend is 100% organic and roasted by our friends Kiss The Hippo, in London. 
We have built up a number of relationships with various independent coffee roasters down the years, allowing you to try a Guest Option on Espresso or Batch Filter.
Warning: Our guest coffees push the boundaries of what is conventionally recognised as 'coffee', often containing wild or unusual flavours which highlight the unique flavour profiles of speciality coffee. 
Yes, we do sell tea (and decaf). 
We source our loose leaf tea from Canton Tea Co. (near Bristol) who definitely make one of the best brews around. 
We've teamed up with Blendsmiths to offer you Dark, Classic or Chilli Hot Chocolate, plus Chai, Turmeric, Beetroot or Matcha Latte's. 
Take Liberty Coffee home with you
We stock plenty of retail beans for you to take home as well as a selection of brewing equipment and paraphernalia to help you recreate that perfect cup.  
To complement our coffee we provide a selection of tasty treats and light savoury options.  You will always find dietary alternatives with gluten and dairy-free options available; they may substitute ingredients but we never skimp on flavour or quality.
House rules
We are dog friendly but allocate certain areas of the café for dogs due to the size of our space.
We do not take bookings but if you are planning a visit with a larger number of people it would be worth ringing ahead to see if we can accommodate. 
Making great coffee takes time and consideration – at busy times there may be a wait.
We hope to see you soon!
What's happening in the world of coffee?
It feels slightly conflicting to announce that our online shop is now open. The global economy may be currently collapsing but feel free to shop to your hearts content. LIBERTY COFFEE ONLINE SHOP Nevertheless I have to continue my business in some format...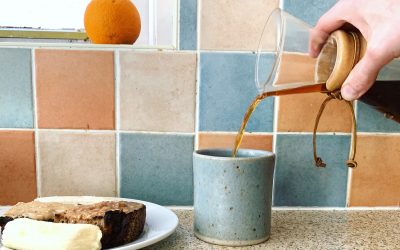 Hello friends, long time no speak. I'm just about re-emerging from this hiatus to update you all on our progress in reopening the shop in an exciting, new format. That sounds far too ambitious and enterprising but I have been able to bash some brain cells...